Vibrations - A Benefit for The Love Yourself Project
The Love Yourself Project Presented its first fundraiser event to help us continue our programing
Saturday August 20th, 5-8pm at The Union Arts Center in Sparkill, NY
This fundraiser brought together an eclectic mix of artists and performers to celebrate self-love. We celebrated what it means to Love Yourself with performance artist Mario Galeano, jazz vocalist Lynn Stein duo with Alan Broadbent, opera soprano Lisa Flanagan, mandolin and guitarist Chuck Plummer, singer and songwriter Katie Elevitch, and more!
The advance ticket prices were $20 and there was an art collector ticket available for $100 that included a limited edition silk screen by our featured artist, Luiza Cardenuto.
About our Featured Artist:
Luiza Cardenuto
Luiza Cardenuto was born in Sao Paulo, Brazil, but it was the uninhibited self-expression and passion of the American arts that inspired her move to America. For Luiza art is instinctual. She attended the School of Visual Arts in New York City where she received a BFA in Visual and Critical Studies. Through her dedication and achievements at SVA, she has the job of her dreams and currently works as an artist fulltime. In the future, Luiza hopes to strengthen the bond of art, economy and culture not only in her homeland Brazil, but globally, uniting people and giving them the instruments and opportunities to create.
Luiza has been affiliated with the Love Yourself Project for the past several years and is helping to spread the concept of Love Yourself nationally and abroad. As the Featured Artist for the Vibrations fundraiser event - she has donated a sampling of limited edition prints from The Mandala Head Series. These prints are available with the Art Collector ticket for people to grow their art collection with an affordable work of art that goes towards a great cause!
The Mandala Head Series combines portrait heads and mandalas with bold graphic lines produced through silkscreen prints. "I began to draw mandalas over people's heads as a way to express the creative flow within the individual mind, and how the organized chaos holds it all together." This series continues to grow with new portraits being added. Some of the prints in this series include a variety of hand coloring techniques on top of each silk screen. This series includes portraits of famous women through history including pieces such as "Mandalakahlo" and "Mandalalisa."
About the Performers
Alan Broadbent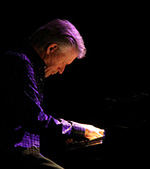 Alan Broadbent is Diana Krall's conductor for her occasional orchestra concerts and is the conductor on her "Live in Paris" DVD. Recently he has been the arranger on Glenn Frey's cd with strings, "After Hours", and wrote six string arrangements for Sir Paul McCartney's "Kisses On The Bottom" with the London Symphony. He has just returned from solo piano concerts in the UK, Poland and France. It has been his lifelong goal, through his orchestral arrangements and jazz improvisations, to discover, in popular music and standard songs, deeper feelings of communication and love.
Andriel and Angelina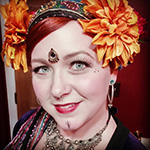 Andriel and Angelina perform ATS(R) or American Tribal Style Belly Dance (R). This dance form combines folkloric dances from the Middle East, Africa, and Spain. ATS was created by Carolena Nericcio-Bohlman over twenty five years ago as a group improvisational dance where the dancers use gestures to communicate. We hope you enjoy the beautiful language that is American Tribal Style Belly Dance.
Katie Elevitch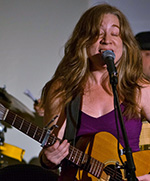 Katie Elevitch is a singer-songwriter, recording artist, multi-instrumentalist, and bandleader whose live and recorded works have been praised by such publications as the Village Voice, the Big Takeover and Lucid Culture/NY Music Daily. Katie has collaborated with such noted musicians as Grammy-nominated Jazz artists Peter Apfelbaum and bassist Jonathan Maron (Groove Collective), guitarist/producer Riley McMahon, drummer Matt Johnson (Jeff Buckley) and bassist/producer Tony Maimone (Pere Ubu), among others. Also a visual artist and arts events curator, Katie exhibits regularly as part of the Nyack Art Collective, and was a lead organizer and music coordinator for NAC's recent LGBT themed First Friday Art Show Benefit for the Rockland County Pride Center. Katie has been producing successful music and performance showcases and events in the NYC area since 2001, at such venues as Brooklyn's Galapagos and Masonic Temple, whose 2008-2009 'M'Sonic Sessions' were profiled by the New York Times online edition. Recently a featured artist, performer and educator at the Garner Arts Festival, Katie continues to perform regularly, and is promoting her latest music project, 'Brilliance and Light', a yoga and meditation inspired album, which was released June 22nd at the Union Arts Center, as part of an on-going multi-media dance, music and yoga performance experience promoting collaboration, community and creative expression. Follow Katie on facebook: facebook.com/katieelevitchmusic and instagram: instagram.com/katieelevitch/ Official Website: www.katieelevitch.com
Lisa Flanagan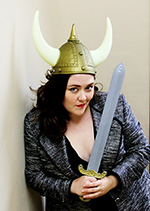 Spinto Soprana, Lisa earned her bachelor and master of music at Boston University. She has worked with highly regarded professionals including Audrey Saint-Gil, Sheila Kibbe, John Beeson, Andrea Huber, Beth Greenberg, and Maestros J. David Jackson, Christopher Fecteau, Scott Jackson Wiley, Gerald Steichen and John Yaffe. She's performed in Carnegie Hall, Boston Symphony Hall, Regina Opera, Light Opera of New York and the Siena Music Festival. Outside of Opera, Lisa wears many different hats in the performing arts such as audio book narration, photography and improvised musical comedy. http://www.lisaflanagan.net
Mario Galeano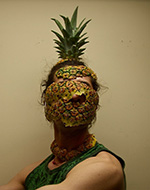 Mario, is a Paraguayan American performance Artist, dancer, zumba teacher and photographer living in Brooklyn, NY. He has performed at several Love Yourself Events in the past, and is a great lover of life!
Honey McMoney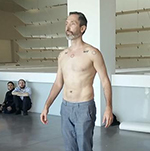 Honey makes paintings and works on and of paper, and performance art. Currently he is usually in Brooklyn NY. http://www.honeymcmoney.com/
Chuck Plummer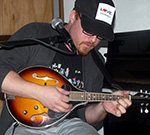 Jonathan "Chuck" Plummer has performed in a myriad number of musical groups on varying types of stringed instruments. With the gothic punk country of o'death to the hip-hop drum and bass sounds of The Groove Brothers or the chamber pop orchestrations of Flare he has been performing at such nationally and internationally renown festivals such as South by Southwest or the Primavera Sound Festival sharing the stage with such luminaries as The Magnetic Fields, Motorhead, and Stereolab.
Lynn Stein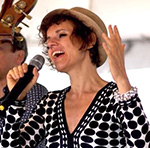 lynnstein.org Jazz vocalist Lynn Stein performs with rich sparkling clarity and a repertoire that reinterprets selection of the Great American Songbook. Lynn Stein can be heard on the Jonathan Schwartz's Radio program and has taken her cool girl vibe and rich vocals to The Iridium, Birdland, Fiensteins, The New Jersey Jazz Festival, The Chautauqua Jazz Festival, the Phoenix Jazz Festival, the Metropolitan Room, The Turning Point, Nassau County Art Museum, The Edward Hopper Jazz Series and a regular on Live on the Jonathan Schwartz Xmas show since 2011 plus many others venues.
John VandenOever

Singer-songwriter John VandenOever of John Whoever & Who Are They. John VandenOever is the singer-songwriter who performs as John Whoever. Following a brief musical career in the midwest, John spent many years writing music out of the public eye while pursuing other interests. In 2011 he returned to performing extensively in the New York area, surprising listeners with solid performances of remarkable songs, either solo or with various versions of his band, Who Are They. The band released its first CD, "What Is This" in 2013, with a second, "What On Earth," in 2015. Musically, John draws on blues, jazz, folk and country influences, yet never loses touch with a strong personal style that ties all these threads together. Listeners may be reminded at times of Richard Thompson, James Taylor, Bruce Cockburn, or Paul Simon. But John Whoever doesn't sound exactly like anyone else. None of his songs even sounds like another. A wide range of musical styles is paired with well-crafted, thoughtful and clever lyrics that speak to both heart and mind with conviction and honesty. John VandenOever clearly appreciates and has absorbed the best of recent songwriting, and now offers a new and original voice. www.johnwhoever.com/
Ahang Zibaru (means beautiful voice in farsi/persian)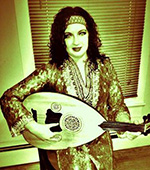 I have been studying classical persian singing with master persian musician Navid Kandelousi for many years. I love to dissect poetry from the persian poets of Rumi, Hafiz, and more and put melody to their words. This past year I have started to study classical persian dancing with master dancer, Rana Gorgani, of France. I have also been studying classical arabic singing under the direction of composer, singer and accordionist, Elias Lammam. I am currently studying traditional arabic oud under master luthier and teacher John Vergara of Beacon, ny. I have attended Simon Shaheen's prestigious Arabic Music Retreat at Mount Holyoke College in Massachusetts for theory and voice. soundcloud.com/barachati
The Love Yourself Project is a 501(c)(3) non-profit arts and education organization providing community programs which promote self-awareness, self-acceptance, self-esteem and skill building. It is our belief that with a strong relationship to the self, every individual can contribute to a future with loving regard for all living beings and the environment.
The Love Yourself Project creates programming including workshops, art exhibitions, and community events geared towards individuals of all ages, cultures and socioeconomic backgrounds. The Love Yourself Project promotes healing through self-love.